Reviews of 'Auf Wiedersehen, Me Duck'
Folker - 16th August 2022 (2022-03) by Mike Kamp
---
There are artists who are made for the really big stages, and there are those who fit more into the folk club or the theater. The English-German duo Walker & Pfeiffer clearly belong to the latter category, because they are really big on a small scale. Their repertoire is built on a certain closeness to the audience: humor, politics, emotions, philosophy and private matters, all presented with guitar and various flutes - as well as two voices that s

imply fit together as tightly as the famous glove on the fingers. One sees Walker & Pfeiffer virtually on stage, whereby we still have the pleasure of some top-class accompanists on the totally plastic-free CD, such as Paul Hutchinson (accordion) or Ciaran Algar (fiddle). The songs are mostly from their own common pen, the exceptions like "Diamonds And Rust" (Joan Baez), "Under That Old Clare Moon" (John Spillane) and "The Peat Bog Soldiers" fit to the high standard of the repertoire. In general, it doesn't matter if you serve the huge festival stage or the small club, without quality neither works. And quality Walker & Pfeiffer offer without question.
Mike Kamp
Find the original review in German here (website translation)
FATEA Magazine 29 August 2022 - by Pete Bradley
---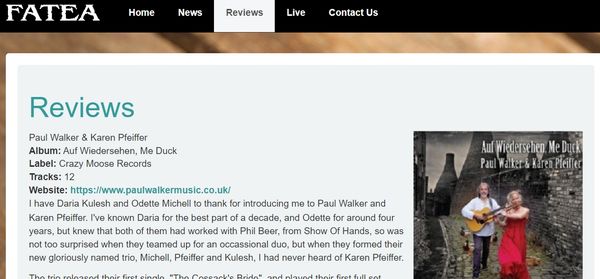 I have Daria Kulesh and Odette Michell to thank for introducing me to Paul Walker and Karen Pfeiffer. I've known Daria for the best part of a decade, and Odette for around four years, but knew that both of them had worked with Phil Beer, from Show Of Hands, so was not too surprised when they teamed up for an occassional duo, but when they formed their new gloriously named trio, Michell, Pfeiffer and Kulesh, I had never heard of Karen Pfeiffer.
The trio released their first single, "The Cossack's Bride", and played their first full set together at Green Note in Camden on the 15th of August 2022. I was lucky enough to be there, and so, although I have not yet had the pleasure of seeing Paul and Karen live, I have heard a couple of the tracks from the album played live. So, as a result of the trio, I was aware of Karen Pfeiffer, but until seeing the trio live I had only heard her singing on that one song. I was therefore very surprised, and honoured, that she contacted me directly via facebook messenger to ask if I wanted to review "Auf Wiedersehen, Me Duck".
The album is dynamite. Although this album definitely fits into the genre of folk, Paul has a voice that sound like it could belong to a heavy metal rock vocalist. The album therefore has the feel of being a compilation of those beatiful soft metal ballads that come as a blessed relief between the headbanging. There are probably very few people who will be able to recall David Byron, Uriah Heep's original vocalist, but "The Ballad of The Queen of May" brought "The Magician's Birthday" to my mind. Those who do remember David Byron, will realise just how good Paul is. Karen, too, has a crystal clear voice, which complements and blends so well with Paul's voice.
I was most impressed with the range of both their voices, particularly their lower registers. I adore a deep bass male vo ice, or a low contralto female voice. In "Under That Old Clare Moon", Karen amply demonstrated her beautiful deep notes, and I was actually shocked at how low Paul sang during "Peat Bog Soldiers/ Die Moorsoldaten".
The album opens with "Our Golden Age", a cutting, socially aware song of what life is like in a town such as Stoke, which once was alive with industry (pottery, mining and steel). It is told with vignettes of people's lives, coloured with such beautiful imagery that you can visualise the characters, even down to their tattoos. Despite the serious subject, the song is a real foot tapper, and I can guarantee that you will be singing the chorus by the end of it.
Karen sings the lead on "Our Golden Age". If sunlight cascading through newgrown leaves on a Spring morning could sing, it would sound like Karen's voice. To listen to her is as refreshing as a forest walk, but if you weren't totally refreshed by the end of the first track, Paul's soft voice breathes in at the start of "Where I Live", like a warm Summer sea-breeze.
Paul Young sang a song called "Wherever I Lay My Hat (That's My Home)". "Where I Live" is a similar, but far more romantic theme. It is a love sonf from Paul to Karen saying tha basically, wherever she is, is where he wants to call home.
"What If My Pockets Were Empty?" is another cutting, socially aware song. It's based on an advert for the charity Shelter that said that over 4 million people in the UK are just one pay day away from being homeless.
As an attempted author, I have received many a rejection in my time, so "The Rejected Songwriter's Club" strikes a large chord with me. There are many song writing "competitions" which require an entry fee, but the organisers are only interested in collecting the money rather than findinding a winning song. There's a very 1920's swing feel about the track. You could imagine Bertie Wooster sitting in a nightclub listening to this.
"The Answer" is an extremely cleverly constructed song. It is Paul Walker's life story of how he set out on his journey for fame and fortune, falling at every hurdle. You can feel tragedy building at every step, until right at the end, he meets Karen and you realise that all the time this was actually a heartfelt love song. Simply gorgeous.
"No Time (The Facebook Blues)" is supposedly a description of Karen's daily life, but I'm sure it applies to all of us. We start each day with good intentions of achieving something, like painting a fence or mending a gate, then log onto facebook, or instagram, and suddenly the day has gone.
No folk album would be complete without a murder ballad, and "The Ballad Of The Queen Of The May" fulfills the role for "Auf Wiederesehen, Me Duck". Paul and Karen live in a village in Staffordshire, which used to hold a May Queen Festival, so the song commemorates that, though the murder was an embellishment that they added, rather than an actual historical event.
The first of three covers on the album is "Diamonds and Rust", written by Joan Baez after she and Bob Dylan broke up. Karen's voice suits this song perfectly, but what really makes it, is the violin played by no less a luminary than Ciaran Algar. Which brings me to a good time to mention the guest musicians that accompany them on this album. Paul plays guitar and vocals, Karen plays tenor and alto recorders, irish flute, Tibetan cymbals, and vocals, and, in addition to Ciaran on violin, they are joined by Paul Hutchinson on accordion, Matt Bishop on electric guitar, Chris Cliff on double bass, Ed Bersey on percussion, keyboards and backing vocals, and Shaun Bracey on keyboards and backing vocals. Sadly, I haven't yet seen Paul and Karen playing live, but, not surprisingly, "Diamonds and Rust" is one of their most popular live tracks.
My favourite track on the album, though every track is a strong contender to be favourite, is "Down To Numbers". On every tombstone there are two numbers, the date of birth and the date of departure. The two numbers are separated by a hyphen or a 'dash'. But when you think about it, if we are to be remembered, we'd like to be remembered for all that we achieved during our lives. Our lives are not jus down to the numbers, but the period represented by the dash.
"Where I Live" was written by Paul in a songwriting workshop with John Spillane, so it is only right that their second cover is a John Spillane track: "Under That Old Clare Moon". Strangely, this song feels like I've known it all my life, but it was written by John in 2016 and first performed in 2019, and appears on John's 2021 album "100 Snow White Horses", so it is unlikely that I have actually ever heard it before. I found myself singing along to it on my first listen though, it is that good!
To describe the history behind the third and final cover on the album may make it sound to be a very dark song. The original German lyrics to "The Peat Bog Soldiers/ Die Moorsoldaten" were written by Johann Esser and Wolfgang Langhoff, with the tune by Rudi Goguel. All three were in a German concentration camp at the time for their opposition to the Third Reich. The song is far from depressing though. It is full of head-held-high pride designed to lift spirits rather than to crush them. Sung half in (presumably the original) German and half in English it is a symbol of peace for these troubled times.
The final track on the album, is the title track "Auf Wiedesehen, Me Duck". It was recorded live, though the rest of the album was recorded in a studio, because it is such a crowd pleaser. As I'm sure you know, Auf Wiedesehen means goodbye in German and 'me duck' is a term of endearment common in Staffordshire, so they use the song as their finale at concerts, to celebrate their German and Staffordshire roots. It does involve audience participation, and again, you will be singing along on your first listen.
"Auf Wiedersehen, Me Duck" is full of beautifully crafted songs, full of humour, deep messages, love songs and musically hooks to draw you in, and keep you coming back for more. And what is more, the cover is environmentally friendly and is plastic free, the CD being retained by a cork disk! Wunderbar, me duck.
Pete Bradley
Read the review on the FATEA website here. 
Folk London August-September 2022, #320 p. 33/34 by Paul Sudnik
---
Paul Walker & Karen Pfeiffer Auf Wiedersehen, Me Duck Crazy Moose Records CM04
Stuttgart is not only the hometown of Mercedes-Benz but also of Karen Pfeiffer, whose voice purrs along on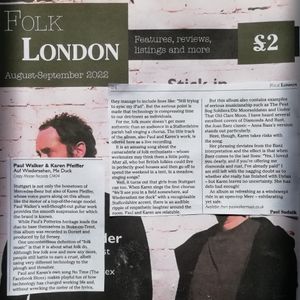 this album like the motor of a top-of-the-range model. Paul Walker's well-thought-out guitar work provides the smooth suspension for which the brand is known.
While Paul's Potteries heritage leads the duo to base themselves in Stoke-on-Trent, this album was recorded in Dorset and produced by Ed Bersey.
One uncontentious definition of "folk music" is that it is about what folk do. Although few folk sow and mow any more, people still battle to earn a crust, albeit using very different technology to the plough and thresher.
Paul and Karen's own song No Time (The Facebook Blues) makes playful fun of how technology has changed working life and, without wrecking the meter of the lyrics, they manage to include lines like: "Still trying to sync my iPad". But the serious point is made that technology is compressing time to our detriment as individuals.
For me, folk music doesn't get more authentic than an audience in a Staffordshire parish hall singing a chorus. The title track of the album, also Paul and Karen's work, is offered here as a live recording. It is an amusing song about the camaraderie of folk enthusiasts – whose workmates may think them a little potty. After all, who but British folkies could live in perfectly good houses and then go off to spend the weekend in a tent, in a meadow, singing songs?
Well, it turns out that girls from Stuttgart can too. When Karen sings the first chorus: "We'll see you in a field somewhere, auf Wiedersehen me duck" with a recognisable Staffordshire accent, there is an audible ripple of empathetic laughter around the room. Paul and Karen are relatable.
But this album also contains examples of serious musicianship such as The Peat Bog Soldiers/Die Moorsoldaten and Under That Old Clare Moon. I have heard several excellent covers of Diamonds And Rust, the Joan Baez classic – Anna Bass's version stands out particularly.
Here, though, Karen takes risks with the song. Her phrasing deviates from the Baez interpretation and the effect is that when Baez comes to the last lines: "Yes, I loved you dearly, and if you're offering me diamonds and rust, I've already paid" I am still left with the nagging doubt as to whether she really has finished with Dylan – but Karen leaves no uncertainty. She has defo had enough!
An album as refreshing as a windswept ride in an open-top Merc – exhilarating yet safe. Available from paulwalkermusic.co.uk
Find the Folk London Website here: https://folklondon.co.uk/
Folk & Honey, review published 1st July 22 on www.folkandhoney.co.uk
---
"Auf Wiedersehen, Me Duck" is the latest release from Anglo-German duo Paul Walker & Karen Pfeiffer
It is a carefully crafted album of original songs, delivered in delicate, open arrangements, which give the album a fresh, live feel.
Paul and Karen's voices compliment each other beautifully. For example, the added de

pth created by their vocal harmonies in ´What if My Pockets Were Empty?', bring an emotional poignancy to this re-vamped release. The song, which discusses homelessness and modern-day poverty, was originally released as a single in 2021, raising funds for the homeless.

I enjoyed the recurring theme of ´working in the factories´ which features in songs such as 'Our Golden Age' and 'The Answer', where Paul recounts first-hand tales of labouring in the potteries of Stoke-On-Trent. These more sincere songs contrast well with the lighter-hearted numbers, such as 'The Rejected Songwriter's Club'. This track also gives plenty of space for the excellent fiddle work of Ciaran Algar.

Overall, this is a well considered and produced album; the variety of song topics and the arrangements of Paul Walker and Karen Pfeiffer, keeps the listener interested and engaged throughout.

Also worth an honourable mention, is the plastic-free, eco-friendly cork packaged digi pack of their physical CD, which will hopefully inspire more artists to look for environmentally friendly solutions.
Eclectic, performed with passion and with excellent musicianship, this album is worth a listen for any fans of folk and acoustic singer-songwriters!
Read the review on Folk & Honey here.
The Living Tradition - issue 145 p. 64 - by Grem Devlin
---
PAUL WALKER & KAREN PFEIFFER
Auf Wiedersehen, Me Duck - Crazy Moose Records  CM04

Album number four by this popular Anglo-German duo, and once again it comprises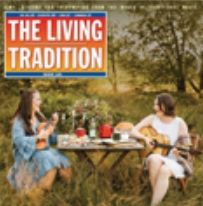 mostly their self-penned songs, along with their take on the Joan Baez classic, Diamonds And Rust, and John Spillane's Under That Old Clare Moon. Also included is Peat Bog Soldiers / Die Moorsoldaten, which is a song written in the 1930s by German prisoners – opponents of the Third Reich - and which lives on as sung by peace protestors. Their own material reminds the listener of their prowess in the intimate setting of a folk club, or indeed at their many festival appearances. The song material varies from social comment, via a murder ballad to a love song – the latter, Where I Live, a particularly tender display of Paul's affection for Karen.

There is also plenty of humour here, including the self-explanatory The Rejected Songwriters' Club and No Time (The Facebook Blues). The way that the two voices complement each other gives the material a pleasant vibe throughout and, similarly, Paul Walker's guitar combines with Karen Pfeiffer's woodwinds nicely. The album is expertly produced by Ed Bersey, and the entire physical package is thoughtfully packaged to minimise the use of plastics.

As an appropriate finale, the title song is a live recording from a folk club, demonstrating again the humour and audience-friendly approach this duo exudes – a fitting send off for the assembled multitude! All in all, this is a nicely presented album that should reinforce the reputation of this pair. As the title song entreats, I'm sure I will indeed see them "in a field somewhere", now that the worst of the effects of the crippling pandemic are over.

Read it on The Living Tradition Website
 
Folking.com, May 2022 - by Mike Davies
---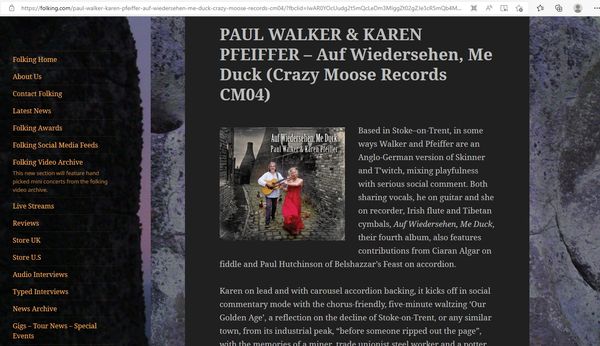 PAUL WALKER & KAREN PFEIFFER – Auf Wiedersehen, Me Duck (Crazy Moose Records CM04)
Based in Stoke–on-Trent, in some ways Walker and Pfeiffer are an Anglo-German version of Skinner and T'witch, mixing playfulness with serious social comment. Both sharing vocals, he on guitar and she on recorder, Irish flute and Tibetan cymbals, Auf Wiedersehen, Me Duck, their fourth album, also features contributions from Ciaran Algar on fiddle and Paul Hutchinson of Belshazzar's Feast on accordion.
Karen on lead and with carousel accordion backing, it kicks off in social commentary mode with the chorus-friendly, five-minute waltzing 'Our Golden Age', a reflection on the decline of Stoke-on-Trent, or any similar town, from its industrial peak, "before someone ripped out the page", with the memories of a miner, trade unionist steel worker and a potter, referencing how the Wedgwood factory made pots for Queen Mary, who "all left their own fingermarks". Paul takes over for the gently fickerpicked 'Where I Live', a love song to his home town ("where I live is what I am"), Karen and Paul returning for another love song, a rearrangement of last year's single, 'What If My Pockets Were Empty?', a poignant song about homelessness ("What if my pockets were empty and no more could I hold my head high? /Could I still claim a seat at your table? /Would I still be that glint in your eye?") and, a reminder, that we're all "just a payday away" and, as Phil Ochs said, "There but for good fortune, down that slippery road go I".
Their playful side surfaces, with hints of Ralph McTell ragtime, brushed drums, double bass and Ciaran on fiddle, on 'The Rejected Songwriters' Club', the title of which pretty sums itself up as Paul sings about songwriting competitions you pay to enter but where the judges are more interested in commercial appeal than poetry, so you should "always set yourself up for a snub". That clearly born of bitter experience, he continues on a more overly autobiographical note with 'The Answer' on which, accompanying himself on fingerpicked guitar with Karen on Irish flute, he reminisces his days working in a pottery factory, packing it in to follow his musical dreams, getting fucked over by the corporate machine in London and his 'Baltimore friend' who disappeared as soon as the money did, giving it all up for a proper job but then the fire being rekindled and, after 22 years in a business suit, swapping it  for a Martin guitar,  returning home and  meeting Karen. More playfulness ensues, this time Karen on lead, with the bluesy 'No Time (The Facebook Blues)' about how social media eats up your day before, as with all good folk acts, they offer up a murder yarn, here The Ballad of the Queen of May on which, to a jaunty strum, Paul recounts the fictional 1890 tale of Aileen Palmer who is crowned 'Queen of May' only to be done in by her jealous rival.
They step away from the originals, for, Paul providing fingerpicked troubadour backing,  Karen to deliver a fine take on Joan Baez's classic song about her affair with Dylan, 'Diamonds and Rust', a staple of their live set, her with added fiddle colour. Then, accompanied by Karen's alto recorder duetting  with Algar's fiddle,  Matt Bishop's electric guitar and Chris Cliff's double bass, Paul sings the brooding dark-hued 'Down To Numbers', a cautionary message  about life that poses the existential question if, when we look back, "is it only down to numbers/Or will we be remembered for the dash?".
Two further covers wind up the studio recordings, first with Karen again on lead and flute for a tender, slow swaying reading of John Spillane's love letter to County Clare 'Under That Old Clare Moon', followed, opening a capella with wind effects backdrop,  by a haunting interpretation of the 1933 protest classic 'Peat Bog Soldiers/Die Moorsoldaten', the pair singing alternative verses, she in German, he in English, their voices coming together for the chorus, the song written (by Johann Esser and Wolfgang Langhoff ), composed (by Rudi Goguel) and first performed in a Nazi concentration camp by prisoners and today an anthem for the Peace movement.
Its first appearance on disc, it ends, as per their concerts, with a live recording of the swayalong playful end of the year parting glass title track ("So, that's it for another year/Goodbye, my friends, good luck/We'll see you in a field somewhere/Auf Wiedersehen, me Duck!"), interpolating 'Show Me The Way To Go Home', the audience in full voice for the finale.
I confess, I'd not come across the duo before, but if they ever turn up in my neck of the woods, I'm definitely keen to discover more.
Mike Davies
Read the review on: Folking.com Website
Reviews of 'The Whole Charade'
Folk North West, Spring 2018
FolkWorld online, May 2018
Folk Monthly, December 2018