Reviews of 'The Whole Charade'
 

REVIEW FROM www.livingtradition.co.uk 

 

 

 

 

 

 

 

PAUL WALKER & KAREN PFEIFFER - The Whole Charade
Crazy Moose Records CM03

This Anglo-German duo has a very strong following in and around The Potteries area, and is now beginning to gain some degree of national recognition, well outside the Staffordshire/Cheshire catchment area.

An Paul and Karen have done that latter ambition no harm with this mix of self-penned songs interspersed with the occasional Folk classic. The album arrives in a beautifully presented Digipak: one furthermore, that is a first for me, in that it features photos of exquisite sculptures of the duo's heads (made by Gillie Nicholls at her Stafford studio). 

From even first listening, one is aware that one is in the presence of two very skilled operators. (Three, if you include multi-instrumentalist and album producer Scott Ralph.)

The songs that the duo self-penned cover a range of subject matter, and are all as well-crafted as they are well-performed. Karen has a seriously impressive, mezzo-soprano voice: one that would not be out of place on the opera stage. Yet it is a singing voice that blends very well with Paul's, and shows not a scintilla of a German accent, in that she sings mainly in RP English (although track 3 sees her sounding peculiarly Irish...or maybe I have my ears on wrong).

And those harmonies are quite stirring and almost Winter Wilsonish in beauty (particularly on the bridge of the title song, and the chorus of the powerful Peter Hames song, Ordinary Man).

Of the self-penned, the standout track is Lift This Weight. It is a song on the present industrial dereliction in Stoke-on-Trent, and a fond memory of very different days when there was the camaraderie to be cherished from what was otherwise a hard working life. Of the famous songs they have chosen to cover, they do very respectable versions of classics like Caledonia, What's The Use Of Wings?, and The L&N Don't Stop Here Any More: versions that don't make me pine for the originals.

This album will get a thumbs up from me, but I want to end a favourable review with a word of warning. Please don't flag-up the fact that you are offering two bonus tracks to the 11, when the track that opens the CD is (after a few seconds of a music box intro), just 52 seconds of Sir Samuel Ferguson's The Lark In The Clear Air, which is marked as "Part One", and track 11 is shown as "Part Two" of the same, and is timed at a similar 50 seconds.

Perhaps that breaking of the lovely Irish song in two (to turn 10 tracks into 11), has a deep meaning that has gone over my head. But I think not: it smacks of a pretentious gimmick. Dear Paul and Karen: don't do it. You are too good for such ruses. 

www.paulwalkermusic.co.uk

Dai Woosnam

 
Folker, Summer 2018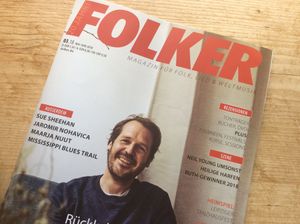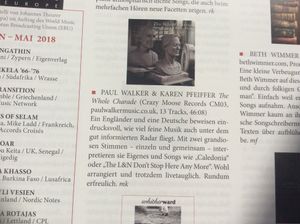 FolkWorld online, May 2018
"The Whole Charade," a lovely burlesque of traditional British/Anglo-American and original ballads, rendered with a subtle groove and great passion for the pure stuff."
Stirrings 175 plus 2018
Some reviews that we weren't able to fit into Stirrings 175...
PAUL WALKER & KAREN PFEIFFER
THE WHOLE CHARADE
Crazy Moose Records CM03
From the outset, it's obvious that here we have a very accomplished team, folks who know exactly what they're about and how to do it all properly. Paul and Karen are an Anglo-German duo who already have a healthy following in the Potteries/Staffordshire/Cheshire area; clearly they feel it's time for the next-stage marketing push, for their third CD arrives in style, lavishly and uniquely packaged (complete with images of head-and-shoulders sculptures of the happy couple), brilliantly recorded (produced by Scott Ralph) and accompanied by a long list of tour dates.
Paul and Karen have developed a highly proficient and assured joint performing style, with a clear commitment to engage and entertain their audience (in that respect there's a definite kinship with Cloudstreet and, nearer home, Winter-Wilson). Paul's guitar work is attractive and individual in character, complementing his own singing style and blending nicely with Karen's clear, gently attention-grabbing voice. She sings powerfully, with an occasional (yet undistracting) trace of a German accent – but leaves us in no doubt that she completely understands what she's singing about, as much as she shares with Paul an appreciation of the approved concept and methods of harmony. They also make a keen writing team, and the album showcases six of their well-crafted original compositions, which cover a good range of topics with both insight and affection. Two of the highlights, which here are billed as the CD's bonus tracks, turn out to be re-recordings of earlier songs from the duo's canon, more fully scored with strings and brass and extra vocal layers.
For the remainder of the disc, Karen and Paul tread the boards of the mainstream folk stages with a selection of covers of suitably genial folky crowd-pleasers – courtesy of Brian Bedford (What's The Use Of Wings?), Dougie Maclean (Caledonia), and the repertoire of Christy Moore (Peter Hames' Ordinary Man and Johnny Duhan's The Voyage). These are both respectful and a couple of notches above respectable (although Paul's prone to a touch of over-emphasis here and there). Finally, the album proper is bookended by two separated verses of The Lark In The Clear Air, sung beautifully and a cappella by Karen, and prefaced by a tinkling music-box. (But why? their rationale completely defeats me…)
Yet here's the rub: for in the final analysis, I can't escape the feeling that I'm missing another dimension, since I'm neither lifted up into the heights nor taken deep into the depths by what I hear. Perhaps it's also that I'd have welcomed a less "safe", more adventurous choice of covers? But there's no doubting that Paul and Karen are a class act, and this CD is a consciously well-managed showcase for their talents.
David Kidman
Review of 'One by One'
A year later, reporter Lisa Mary catches up with her very first interviewees, Paul and Karen, for a review of their album, 'One by One'.
Having just returned from a spectacularly successful German tour (complete with reviews in the local papers), I was excited to catch up with Paul and Karen a year on from our first interview at Granvilles, Stone. Their freshly recorded CD, which was eagerly awaited, gleamed under the flashing neons and I happily sipped (not gulped, I promise!) some red, red wine, enjoying some highlights from the album.
Mostly recorded in the Church of St Peter in Maer, Staffordshire, the album has a rustic, folky edge. Having heard this duo play more than once, I thought I knew what to expect from their recorded album, but I was treated to a record even more delightful than anticipated.
Opening with 'The Galway Farmer', with a typical P&K a cappella opening, it is clear that the duo's harmonies are even more en pointe than when I first reviewed them. The melody being sung by Paul in this case, with Karen providing thoughtful harmony, it opens on a spine-tingling note before breaking into an acoustically accompanied rendition. Followed closely by 'Play Me a Love Song', the mellow and striking voice of Karen is used to its full potential as she takes melody. A definitive piece in the album, it would strike a chord with even the coldest of hearts, especially when Paul's harmony adds an additional texture to the sound. It is striking that this is an original song written by Paul and Karen themselves.
As an audience member put it at Granvilles, 'Their original songs blend so well with their covers, that you could convince me that these are already huge hits.'
The next two songs 'Another Man' and 'Land of Green' pick up the pace. With some intricate guitar playing from Paul, Karen's voice is brought through to its whole strength with its full, rich mezzo-soprano tone. These two folky numbers are then followed by the more traditional 'Lizzie Lindsay'. Shared vocals between Karen and Paul allow Paul's smooth, silky voice to breeze through the piece with Karen's harmonies effortlessly floating above the melody.
Another original number follows: 'I Don't Wanna Go To Work Today'. This is a piece I raved about in my first review of them, so I will refrain from gushing … but its uncanny familiarity is striking. Another splendid song with beautifully shared vocals again. Sliding easily into a cover of 'Just Hold Me' (of Maria Mena fame), another successful melody lead by Karen showing the versatility of her vocal range.
The next track on the album is another original song, 'One by One' with its lovingly romantic lyrics, fitting the clear close relationship between this duo, who always perform with passion and love. A piece with a praise feel that runs into the more peaceful 'Muss i Denn' (Wooden Heart), closely followed by the final song on the album (and a Paul and Karen classic) 'Mercedes Benz'. Giving a circular feel to the album, it is an a cappella rendition which is gradually added to with percussion. Karen's voice here is simultaneously gritty and stunning; a pure, strong tone accompanied with Paul's spot-on harmonies. A sensitive and accomplished ending to an impressive album.
All in all, I am surprised, shocked and in awe. Not only have they pulled it out of the bag, they have done so with a kick of harmony, a smattering of acapella and a rush of drums.
Bravo Paul and Karen or should I say Gratulation!