Mauerwerk, Herrenberg, February 2020 (English translation below)
Translation (by Karen Pfeiffer)
Folk songs tell colourful stories
Lively, versatile and touching was the guest performance of the Anglo-German folk duo Paul Walker and Karen Pfeiffer at the 'Mauerwerk' (= masonry). The chemistry was right, and the audience enjoyed an excellent performance, in which soft tones prevailed without the evening tipping into the all too serious.
This was ensured by the bubbly manner of singer Karen Pfeiffer, who kept encouraging the audience to join in and kept them entertained with self-created jokes whilst Paul Walker, who was more introverted, tuned his guitar. However, as soon as she started singing, the mood changed abruptly. Because the Englishwoman of choice, who grew up in the Stuttgart area, has a gifted voice: at the same time warm, full and crystal clear, which she uses just as sensitively and precisely and with which she, as a matter of course and with ease, switches between many different moods and styles. From the emotionally sung, stirring sad ballad "The Banks of the Lee" to the impressive, almost audaciously interpreted "Zombie" by the Cranberries, the versatile interpreter mastered numerous vocal varieties.
Perfect accompaniment with guitar and vocals
Edith Piaf's "La vie en Rose" was just as convincing as Joni Mitchell's "Both Sides Now", original compositions such as "The Whole Charade" or the carefully written Goethe poem "Closeness of the beloved"*. Paul Walker provided the perfect accompaniment with guitar and vocals.  Both musically and as a couple they harmonised very well. Sometimes the tables turned, Walker interpreted a song he had written, whilst Pfeiffer sang the second voice and set musical accents with various flutes and rhythm instruments.
The Swabian and the Englishman from the Midlands, who are also a couple off the stage, have been performing together for over eight years. At first they appeared in bars and clubs, but now they can be found mostly at folk events and they have made a name for themselves on the scene. Together they played a successful mix of their own compositions, traditional and little-known newer folk songs and the above-mentioned "classics" during the evening. Especially the songs they wrote themselves told stories that sometimes made you think, sometimes made you smile. Thematically, they cover a wide range, they deal with domestic happiness ("My House"), the time-consuming internet ("No Time"), a lonely evening in a bar ("Play me a Love Song"), an Irish farmer who is looking for luck in horse racing ("The Galway Farmer")** or the growing homelessness ("What if my Pockets Were Empty?"). Their songs are about big and small feelings, which, on closer inspection, have some depth. What made them a listening experience were the wonderfully harmonising voices of the two; what made the evening a pleasant experience was their authentic, friendly attentiveness towards the audience, which created an open, familiarly atmosphere.
* meaning 'Goethe's Song' written by Colum Sands.
** not our own, of course, written by Steve Knightley.
Folk North West Spring 2020
Topic Folk Club, Bradford, February 2020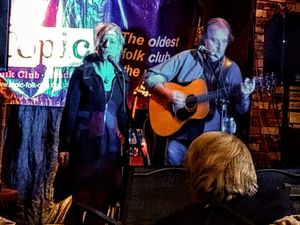 "...What a great night tonight with Karen Pfeiffer & Paul Walker! Warm and funny duo, but with serious singing, acting and instrumental talent. They are all about heart, put it into their songs and reach out and into the audience. Consummate musical professionals with natural people skills. Karen Pfeiffer, how could you do other than you do with your name? Born to play!..."
Jane Ramsden
(from Topic Folk Club Facebook page. Review shortened)
Hungry Horse Folk Club, Ellesmere Port March 2018
Woodman Folk Club, Kingswinford 2017
Brewood Folk & Acoustic Music Club 2016
And even before that... 'Live @ Granvilles'