The Harrison, Kings Cross, London, November 2023

Paul Walker &  Karen Pfeiffer
Venue: The Harrison - Town: London - Date: 03/11/2023 - Author: Pete Bradley
Although I've seen Karen before in her trio Michell, Pfeiffer and Kulesh, this was the first time that I've seen Paul and Karen play as a duo, but it very definitely will not be the last. (… we have cut out some text here that was not directly related to our concert, if you would like to read the whole review, please find it here: https://www.fatea-records.co.uk/magazine/live/pw-kp-harrison/)
… get to spend an evening with such glorious company as Paul Walker and Karen Pfeiffer.
Having heard (and reviewed on Fatea) Paul and Karen's album "Auf Weidersehen Me Duck", I was aware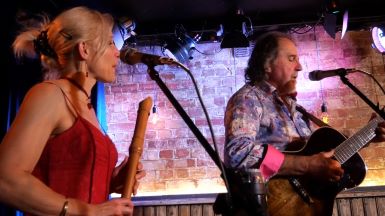 how beautiful their voices are. I was not aware, though, how wonderfully animated they are on stage. Karen sings with her whole body. Particularly noticeable in their cover of Joan Baez's "Diamonds and Rust", in which the entire stage isn't large enough to contain her and she even bounced out into the audience. During the line 'heading straight for a fall' she dropped into a seat and sat down amongst us for a while. Particularly also noticeable in "Our Golden Age", their homage to Stoke-on-Trent's industrial past. When she sings 'Round and round goes the potters wheel', her arms helicopter round her, driven by the ghost of a long gone potter's workbench. I'd swear at one instance, when she is describing the brick-like fist of a miner, her body is inhabited momentarily by the spirit of a body builder.
I was also surprised how much fun they have not just playing their songs, but playing with their songs. Their material can be dark, tragic, deep, poignant, but there is an air of lightheartedness about them. When an actor breaks the flow of a play and talks to the audience directly they call that breaking the fourth wall. Karen and Paul are masters at this. During "Rejected Songwriters' Club", Paul announced, that on the album there is a violin solo from Ciaran Algar, but that Karen would now emulate that. Karen, whilst still juggling with the maracas and Tibetan cymbals that she was already playing, suddenly brings out a weird instrument, part kazoo and part trombone, which as you can imagine sounds nothing like a violin. During their murder ballad, "The Ballad Of The Queen Of The May", after the gruesome murder scene, they broke stride whilst still strumming the chords to announce that they had written a less gruesome ending which required some audience participation to shout 'Aileen, duck. She's behind you!' in the style of a pantomime, and then proceeded to replay the last verse, but with a happy ending thanks to the audience intervention. I have never seen any one do anything like that before. Amazing.
They are also wonderfully self effacing. After playing "Rejected Songwriters' Club", Paul said that the music press had compared his guitar solo with Ralph McTell. He then joked that they had said 'compared to Ralph McTell, he's crap'.
A young lady arrived late in the first half and sat next to a guy in the front row. When they were about to start the second half that couple were still upstairs at the bar and hadn't yet returned to their seats. Paul joked that he didn't think they were coming back and that the guy must have texted his partner to say 'Get me out of here.' Of course they returned. The show was far too good for anyone to want to leave.
Their 2018 album "The Whole Charade" is bookended by "The Lark In The Clear Air". They opened their first set with a crystal clear a capela rendition of this from Karen, which then morphed into "Where I Live", a love song written by Paul from "Auf Weidersehen Me Duck". This was followed by a cover of Colum Sand's "Goethe's Song" which Colum based on "Nähe des Geliebten", a poem by Johann Wolfgang von Goethe. Partly in English and partly in the original German, the song is ideal for them, Karen having come from a wine growing region in Germany, and Paul having come from Stoke-on-Trent - a wine consuming region.
Paul and Karen recently played at the Cork Folk festival where they met Jimmy Crowley, who played a song he co wrote with Pat Daly, called "The Rose Of Coburg Street". The lyrics mentioned a saxophone, so the song caught Karen's ear as she was attempting to learn to play that instrument to add to the long list of other wind instruments that she plays. Instead of a saxophone she had brought along an instrument she referred to as a Hoover. I think it is a bass recorder as I believe a contrabass recorder would be even larger.
This was followed by four tracks from their latest album, "Rejected Songwriters' Club", "Our Golden Age", my favorite track on the album "Down To Numbers" and their cover of John Spillane's "Under That Old Clare Moon". They rounded off the first set with a song that I don't think has yet appeared on an album, "The Oatcake Song" - a sing-a-long song that must have confused the Minnesotans in the audience, as it was written in the Stoke dialect.
For the second set they continued with four further tracks from "Auf Weidesehen Me Duck": "Die Moorsoldaten", smuggled out of a German concentration camp in the 1930's which was translated to "Peat Bog Soldiers" and is now an international peace song (likely to be found in any Michell, Pfeiffer and Kulesh set list); their cover of "Diamonds and Rust"; "The Ballad of The Queen Of May" and "What If My Pockets Were Empty", a song in which they imagine that they were homeless, inspired by the Shelter statistic that there are four million people in the UK that are only one pay check away from homelessness.
Maybe due to the fact that The Beatles had just released a new single, or maybe because they were playing at The Harrison, but they included a Beatles cover in their set list, namely George Harrison's "Here Comes The Sun". This was followed by "Play Me A Love Song", inspired, apparently, by a nightclub they visisted in Cologne. "Play Me A Love Song" is included on their 2018 album "The Whole Charade" and on their 2013 album "One By One".
The evening was wrapped up with the title track from "Auf Weidersehen Me Duck". It was inspired after playing at a folk festival when someone called out to Paul, 'See you in a field somewhere, Paul.' It includes a list on names which end in Pete, at which point Karen pointed at me, and winked. I mean, considering this was the first time I'd seen the duo play, what an honour!
The only downside to the evening was that there wasn't a great many people there in the audience.  I guess playing your first London gig on a night in which the Royal Festival Hall were holding a Bert Jansch tribute and on a night so close to Bonfire Night was maybe not advisable. Their bookings continue throught 2024 and include venues all over the country, so I urge you to make sure that you check their website and get to see them. You do not want to miss them again, particularly if the venues are under so much threat.
Set List
The Lark In The Clear Air/ Where I Live
Goethe's Song
The Rose Of Coburg Street
Rejected Songwriters' Club
Our Golden Age
Down To Numbers
Under That Old Clare Moon
The Oatcake Song
Peat Bog Soldiers/ Die Moorsoldaten
Diamonds And Rust
The Ballad Of The Queen Of May
What If My Pockets Were Empty?
Here Comes The Sun
Play Me A Love Song
Auf Wiedersehen Me Duck
Pete Bradley
Link to the Original review: https://www.fatea-records.co.uk/magazine/live/pw-kp-harrison/
Bedworth Folk Club, December 2022
"

Well, what can I say but WOW!! ... you had the audience in the palms of your hands last night, mesmerised by the beauty of your harmonies and the emotions radiating from your songs..... On behalf of Tamworth Folk Club may I thank you so very much for coming to our 'humble abode' last night – we so enjoyed you." - Malcolm Robinson
— Tamworth Folk Club, November 2022
Aberdeen Folk Club, November 2022
Woodman Folk Club, Kingswinford, October 2022
Hungry Horse Folk Club, Ellesmere Port March 2018
Woodman Folk Club, Kingswinford 2017
Brewood Folk & Acoustic Music Club 2016
And even before that... 'Live @ Granvilles'